You must have read a few posts related to Navratri puja vidha and vrat vidha on our portal. Today we will see about the Navratri Vrat katha. Let us start by seeing what is the normal schedule of a family during these days.
The Navratri Schedule
The families get up early in the morning. Take a shower and then they are supposed to start arranging for the puja. The people doing the puja should fast and only then start the puja.
The puja can be done with an idol, a photograph or even a yantra of goddess Durga. Goddess Durga is worshiped as a symbol of strength and courage. These must be kept on a metal plate.
The basic things that you must have to do the puja are enlisted.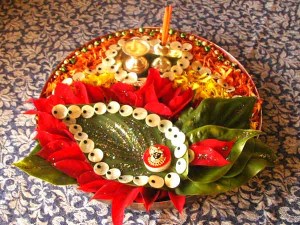 You need to use  a red thread, a red colour also called kumkum, red flowers are associated with goddess Durga and sweets that are used must be of pure milk.
Kalash or a pot filled with water is kept in front of the Goddess.
It is decorated with red kumkum. Each morning evening it is worshiped and Bhajans are sung. With this red flower you should chant some shlokas. The shlokas that you must chant here is
Om sarva mangala mangle, shive sarvardha sadhike, sharanya trambakey gauri, narayani namasthuthey
At the end of each mantra you should offer the flower to the goddess. You can do this three times or nine times as you wish and as much time that you have. It is also done in big groups or in small households.
Every path that is done during the Navratri should be followed by reading out a katha.
Om shree Durgaye namaha
The above mantra must be chanted hundred and eight times with white flower and chandan (sandalwood).
All the things that are used for the puja must be put into the water and destroyed. The bhog of the puja which is the food that is offered to the deity must not be wasted at all. It is considered a bad omen.
On the eighth and ninth day of the Navratri a small girl aged below nine are worshiped as goddess Durga. This is a very popular custom especially in West Bengal. This is considered to be very auspicious and is believed that the goddess herself gets into the little girl who is being worshiped. The girl is offered riches and also a churni which is nothing but a red and golden cloth that is used to cover the head of the goddess. The devotees even tie it to their heads during the puja and during the Navratri evenings.
Now for the katha or story
The story goes like this that there was a Brahmin named Sunantha. He was a great devotee of goddess Durga and used to worship the goddess every day. He had a beautiful girl. She was obsessed with her beauty and would not pay much attention to the puja of goddess Durga.
Her parents got very angry with her and decided to marry her off with a leprosy patient. The girl had faith that the goddess Durga will always protect her. So she went into the jungle on the night of marriage. The goddess got please with her and appeared.
She told her that she should fast for nine nights and not even have water. If she does so the goddess will cure her husband, make him rich and handsome and will also bless her with a healthy son who will become very popular with age. She did the same and lived the rest of her life happily. This made the goddess more popular and people started following these nine nights with more devotion.
Other things to keep in mind
It is believed that if the goddess is pleased with you in these nine days fast she will grant you any wish that you want. Even today people follow these fasts religiously and sometimes even don't have water. No non vegetarian good is allowed. Some people eat fruits and juices.
Some fast and take one meal a day. It is done by both men and women. Depending on age and ability people take these fasts. Some also do it in three days. Three days in the beginning or three days in the end of the festival.
In south India like Tamil Nadu, every household woman decorates with small dolls. These dolls are called kollu and Golu.  They represent the darbar of goddess Durga. It is popularly called Bommai Kolu.
These nine days are dedicated not only to Dura but also to Laksmi and Saraswati. The nine forms of Durga that is worshiped during these days are.
On day one Shailputri.
On day two bramacharini.
On day three chandraghanta.
On day four kushmanda.
On day five Skandmata.
On day six the form of Durga that is worshiped is called kaatyayani.
The day seven is for Kaalratri.
Eighth day is for mahagauri
Last and the ninth day is dedicated to worship Siddhiratri.
All these are the various forms of the same goddess that saved the world from the asuras after the nine nights of war.
There is a katha that is associated with the Navratri vrat it gives a detailed account of how the Navratri vrat started and why people have so much faith in this. It gives a detailed account of how common people have achieved their wishes by doing this vrat. These are a collection of stories that are read during these nine days. It is to create awareness among people about this festival and also to ensure that people know about the impossible that they can achieve with just faith in the goddess Durga.
This is a brief idea about Navratri vrat katha that is still followed in many parts of the country with great devotion. The stories of faith and the tasks done by the goddess are read out on these nine nights. Devotees read these Navratri vrat katha with lot of devotion and faith. After all fasting during these nine days can lead you to moksha.