As we approach Sri Krishna Janamashtami midnight, many of us want to perform the Pooja of our beloved Kanha who is born on this pious night and receive maximum blessings.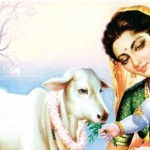 Ideally as we keep stressing many times at our website and articles too, that for doing a Prayer you do not need an auspicious time as long as you are wholeheartedly involved in it and do not perform it as a ritual but as something which is felt inside.
Timing of Pooja and Fasting for Sri Krishna Janamasthami
The traditions and customs do suggest some particular times and days when the orientation of the cosmic vibrations is such that it is easier to attune to such a state, because for a person involved fully in the saga of modern metro life it is not easy to get detached and Pray with devotion anytime. So it is better in such cases to take advantage of such moments
Sri Krishna Janamasthami is certainly one such occasion when the sayer of the Bhagwat Gita was incarnated on Earth. There is a long and interested story associated with the difficulties his parents had to face but they are already very popular so we will not repeat them, though we do suggest for all Krishna Bhaktas to take a look at them at any website/book etc if they are not aware of them.
Sri Krishna Janamasthami Fasting
It is a good thing to keep fast on Janamasthami and considered to be very cleansing.
Of course there are certain rules relating to fasting on this day which are as follows
No grain to be consumed
Breaking of fast is known as Parana only at specified time
Perform Pooja of Lord at midnight at specified time (Nishita)
Parana is normally taken as the time when the Rohini Nakshatra under which Lord Krishna was born gets over but this year the Janamashtami will be celebrated without Rohini Nakshatra
This year the Ashtami Tithi starts at 11:25 pm on 29 Aug 2021 and gets over at 1:59 am on 30 Aug 2021 so officially that is the fast breaking time
And the time to perform Pooja of new born Lord Krishna is known as Nishita Pooja and this year it is ideally between
12:06 AM to 12:31 AM, Aug 31
which is a duration of 25 minutes and hence exact moment falls at
12:18 am at night (31 Aug 2021 morning)
However we understand that not everyone could fast that long and neither can everyone perform Pooja at exactly at the given time so take these as general guidelines rather than something to be followed rigidly
Just remember our Lord Krishna resides in our hearts and will see the faith and devotion you show rather than exact timings
And though no age can be defined for the Lord, estimates say it is the
5248 Birthday of Lord Sri Krishna
Jai Radha Madhav