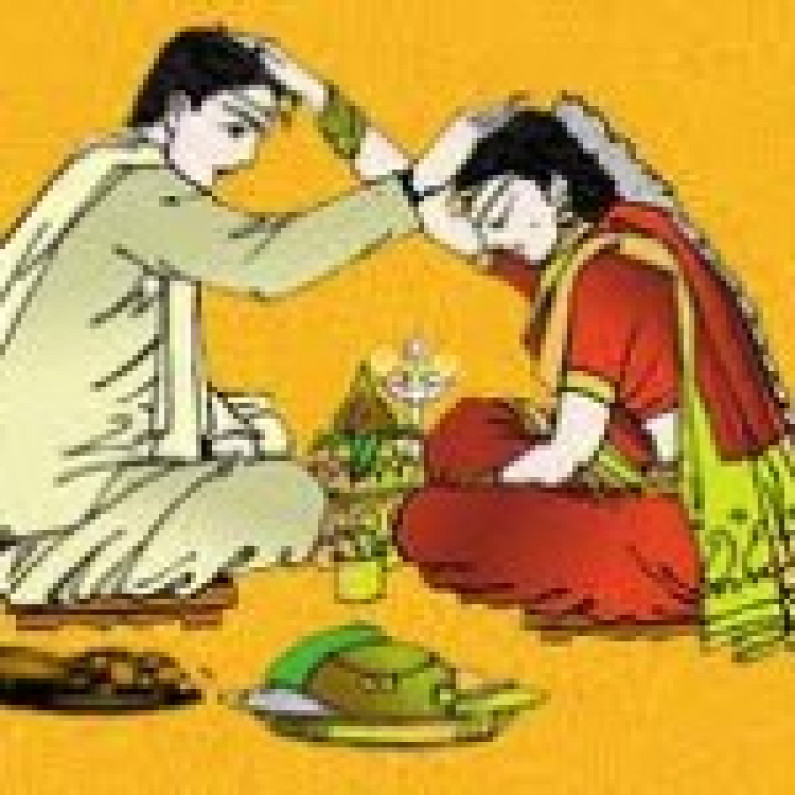 Upaya for marriage
Marriages they say are made in heaven. Even in Hindu astrology it is believed that everyone has a soul mate that is waiting for him or her and is waiting to meet. It is true that there is definitely a divine hand and also something like destiny that makes marriages happen. However, in today's world we all are everyday listening to stories of how marriages are breaking. Whether it be love or arranged marriage. It is becoming more and more difficult for people to get the best life partners who can ensure a stable marriage. No matter what we say but the fact remains that everyone needs a good life partner who will understand them and be with them in all times.
This is exactly why we are now going to discuss the various Upayas that one can do to ensure that they get married to the right person and have a blessed married life. Well the first and the most important of all facts remain that the horoscopes are a must to be matched. Any learned astrologer if consulted with the horoscopes can predict the future of the marriage. Another very important fact is that a good palmist must be consulted. He or she should read the palm of both the groom and bride and recommend the marriage. An auspicious day must be selected for the marriage. A good day for the marriage can ensure a better married life for the couple. Well one important aspect that we must discuss here.
It is true that in today's world where we have the liberty to select our respective husband and wife. Love marriages are on the increase. It is not possible for people to fall in love with someone with whom their horoscopes match. However, it is true that if you are doing a love marriage then you must ensure that you get the horoscopes matched. If they are not matching then do try to do all the things that are required to ensure that your marriage is a happy one these are called marriage Upaya. Similarly if you are looking for a right match but you are unable to get one then too you must try some marriage Upayas that can ensure that you get the right match soon and enjoy a blissful married life.
Some of the Upaya for marriage are discussed now that you can definitely try to get a good married life. If you have a Manglik dosha then do consult a good astrologer. You must do the puja at Ujjain this will help you get rid of Manglik dosha. Some women with strong Manglik dosha are advised to get married to a banyan tree or to Shiva linga to ensure that their married lives are not affected.  Kal sharp dosha is also a problem that we may face to get an ideal match. This case too requires intervention from a learned astrologer. They can tell you the exact date when you need to do the puja. You can offer puja at Trambakeshwar or Ujjain to get rid of this dosha. Once you are done with these pujas you can also wear some stones that the astrologers recommend depending on your horoscope that can make the marriage fast and smoother. Some astrologers also suggest taveez and lockets that need to be worn with a red or yellow thread. There are many temples in India where people offer pujas for a good marriage. You can also try that after consultation with a good astrologer.
There are some small Upaya for marriage that you can try. If the girl wears new clothes when she meets the prospective groom and family then the results must be positive. Yellow is a good colour for marriage. You can also discuss with your astrologer on the colour you should wear and also the day when the first meeting must be held this will make a big difference to the marriage prospect. Girls must keep their hair open during these meetings this will ensure that the prospect becomes more positive. It is believed that fasting for sixteen consecutive Mondays can ensure a good marriage. Girls are also advised to worship lord Shiva and Parvati for a good marriage. There are many shlokas and mantras that one can recite to get a good proposal. One of them is mentioned below that you can recite to get a good husband or wife on every Friday for three times. 'Ballarkayutsatprabhaam kartale lolbru malakulam Malamsanddahatim manohartanum Mandsmitadhomukheem Mandam mandmupesushee Bariyitum shambhum jaganmohimim Vanditpadamishtarthadaam Parvateem' There are some old beliefs that grandmothers will tell you like you should attend marriages and get mahendi on your hands to ensure that you find a suitable match soon. Some say that using turmeric while taking bath can also ensure a faster marriage.
These might be old beliefs some of it must be difficult to follow in today's world. However, the few that we have mentioned above can definitely be followed for a good and happy married life. You must have faith is whatever that you are following and the astrologer that you are consulting. This is very important for you to make the most of the time that you have and ensure that you get the right match.
After all marriages are important and we all want a stable and happy married life. I hope you have now got a clear idea of the various Upaya for marriage that you can do to get a good married life. However, we must advise you that you cannot do all of these at the same time and neither can you do whichever you like. It all depends on your astrological chart and the horoscopes. Each remedy is for a different problem and they also change from the severity of the problem too. This is exactly why we recommend that you do consult a good astrologer and then follow these Upaya for marriage. Please send in your detailed horoscopes for our astrologers to advise you the best Upaya for marriage that you need to follow. I hope you found this article of help and hope that you get a good life partner soon.