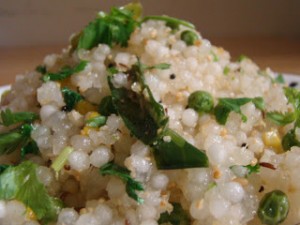 Navratri in most part of India is associated with fasting. As we all know that men and women fast during these nine days. However, in spite of a strong fast they break it with good food. Food that is traditionally prepared in the kitchen by mostly the women of the house. There are some special recopies that are associated with fasting in Navratri. One of the most popular recipes that are tried by almost all households in India is the very special sabu dada bada. We will now tell you about the traditional recipe of the sabu Dana bada.
This is quick snacks and apart from these festival days it can also be made during the normal days too. This can be had on a rainy evening with a hot cup of masala tea. The recipe is simple yet very yummy. You need to take a cup of sabu Dana, some cumin seeds, half a cup of roasted peanuts, a potato that is boiled, some green chilli paste. A little bit of oil and salt to taste.
You will have to soak the sabu Dana in a bowl after washing it. You can keep it over night or also for few hours. Ensure that the sabu Dana is soaked for at least five hours. Make a paste of this sabu Dana that you had soaked. In this pate add all the ingredients that we had listed above except the oil. Take a pan and heat oil. When the oil is quite hot make small balls of the paste make it a little flat and put it into the oil. Now you can make the flame medium as that will make the sabu Dana bada fluffy and soft. You must drain out the extra oil when the bada is cooked. It should look golden brown as depicted in the picture enclosed. You can serve it with any sauce or chutney. It is a good food to break fast as it is healthy and light on the stomach.
You can also add black pepper chopped coriander leaves into the sabu Dana bada. Some can also add baking powder. Mixing this will make the bada crispier. Some people also use ghee to fry the bada. The secret is that the batter should be even and smooth if not the bada will not come out well. Another thing that you must do is wet your palms before you make the balls so that they come out in nice shapes. The bada is best when served hot. Now a day's people even buy it from shops rather than making it in their house. However, for breaking the fast it is still made at home. Sabu Dana is a very popular means of breaking fast. Some people even make khichdi or porridge with it and have it to break their fast.
This is prepared in all parts of the country in the Navratri time. Especially in Gujarat, Rajasthan and northern parts of India. Sabu Dana bada is nothing but tapioca patties. The batter that we discussed can be kept in the refrigerator and you can make them for two days. It is helpful as mostly this bada is had hot. Some people also use a little bit of ginger garlic paste to add to the taste. However, some communities like Jain don't have ginger so they will never use these pastes.
In India garlic is considered to be non veg as it is found underground and root is the basis of life in any plant. Generally due to this the paste is not used during Navratri. However, if people are preparing sabu Dana bada in any other time and they are non vegetarians they will use ginger garlic paste mostly. A little bit of lemon if added to the batter can make the bada a little tangy. Nevertheless, you must remember that if you do this then you cannot preserve the batter for long as lemon will make it sour.
The Sabu Dana bada can also be had with coconut chutney. Some also use pudina chutney to have it. It is definitely a healthy snack. People are also using light oil and olive oil to make it. This makes it even lighter. This is quite contrary to the use of ghee and dalda traditionally. This shows that Indians are becoming more and more health conscious. It is enjoyed by one and all. Perhaps this is why it is so popular and is so widely prepared during the nine nights of Navratri. These are the basic recipe and secrets that are associated with making of the very delicious sabu Dana bada all across India. I hope you now know exactly how the bada can be made and why is it so closely associated with the festival of Navratri. Every family will have their own ways of making these Bada. Each will have their own ingredients. However, these are more or less all about how these bada is made. There might be some additions here and there but overall the recipe is the same.
The recipe is simple as you can see for yourself. You can make this easily in your house. I hope this time round you will not be getting these bada from the nearby shop. Instead you will make it all on your own and surprise all. You don't have to wait for Navratri to make this. You can prepare it whenever you get the time and you want to have a light snacks that is yummy and healthy. The ingredients are easy to get too. Festivals are special to all of us and they become even more special when they are associated with good food. Well you might feel the urge to fast more if you know that at the end of the day you will get to feat on some yummy dishes. The Sabu Dana bada is a crispy and crunchy dish that melts in your mouth and the smell is delicious. Happy Navratri and happy feasting!