This is the next tutorial in the horoscope reading series wherein we focus on the 11th and 12th houses of the horoscope.
PERMANENT 11TH HOUSE
FOUNDATION FOR FATE; PLACE OF JUSTICE AND HOUSE OF INCOME
LORD: JUPITER
It is the house for Income flows from this house and leaves from 3rd house. Aquarius (11th sign) cannot be dominated by any other planet. If Moon or Jupiter occupies this house then Ketu or Rahu are destroyed. The reverse is also true i.e. Rahu or Ketu occupying this house destroys Jupiter and moon.
This house also denotes acquisition of gold, jewels, all kinds of gains of money, income, mercantile speculations, paternal property etc.
EXPLANATORY NOTES:
If a wicked planet Saturn, Rahu or Ketu is alone in this house, its good results are visible singly; but if mighty Saturn joins another wicked planet (Rahu or Ketu) benefic results multiply by eleven times. When such a planet occupies house no. 1 in the annual chart (11, 23, 36 48, 57, 72, 84, 94 etc), it becomes the planet of fate.
If no. 3 occupied by Sun, Moon Mars (friend of Jupiter), no. 11 will always give good results.
No. 11 is accepted by no.3. If there are planets in both the houses, no. 11 will be awake and perfect.
If Ketu occupies this house, Moon is destroyed and vice-versa. Jupiter in this house destroys Rahu and vice-versa.
Only the wicked planet in this house give good results in this house; others will not be dependable. If no. 3 is vacant, benefic results are visible when it occupies the 1st house in the annual chart and malefic results when it occupies the 8th house in the annual chart (i.e., 7, 20, 34, 45, 53, 67, 79, 92, and 97). He must not bring articles pertaining to that planet. Suppose Saturn in no. 11 of the horoscope occupies no.8 in the annual chart, one must not bring home machinery and leather goods. If he has to buy then he must also buy toys and sports material for children (articles pertaining to Ketu). This will result on changing bad luck to good luck. Remedy lies in Jupiter.
THE EFFECT OF PLANETS IN No 11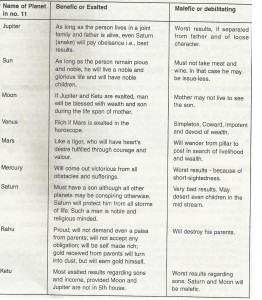 PERMANENT 12TH HOUSE
CHART SHOWING LORDS OF VARIOUS HOUSES AND SIGNIFICANCE OF HOUSES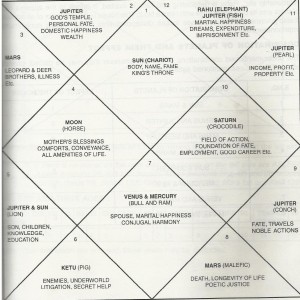 MARITAL HAPPINESS, EXPENDITURE, IMPRISONMENT, DREAMS ETC.
LORD: JUPITER AND RAHU
It is the house of expenditure, Conjugal happiness, domestic prosperity, and man-woman relationship etc., Rahu is debilitating and Ketu is exalted. It listens to the appeals of all planets and its own appeal lies with House No. 2 this house is the arbitrator of all appeals. It also governs enemies, expenses, losses disappointments, foreign travels, punishments, imprisonment etc.
COMBINATION OF PLANETS AND THEIR EFFECT
The under-mentioned combinations of planets, wherever they may be placed, give the effect of the house mentioned against each:

BIRTH CHART (JANAM KUNDALI)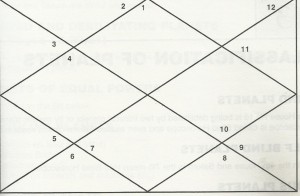 First six houses are on the right side and the remaining from 7 to 12 is on the left side.
If there is no planet on the right side, the planets on the left side are ASLEEP.
Jupiter awakens 9th and 11th house. Moon awakens 2nd, 4th and 8th houses; sun 5th, Venus 7th, Saturn 10th, Rahu 6th Mercury 3rd, Mars 1st and ketu 12th.
HOUSE AND THEIR AGES:

When Sun and Moon are eclipsed, three year may be deducted.