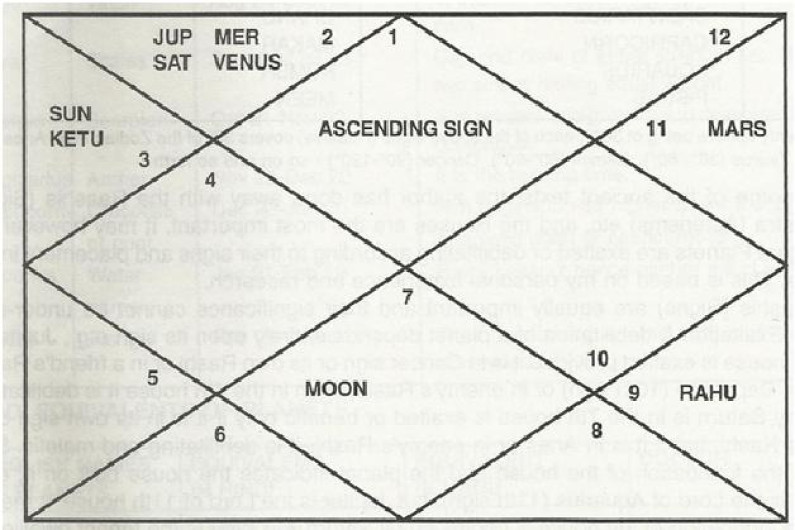 Man has been looking at the heavens with wonder and awe. Our ancient sages in their wisdom, ascribed certain functions and virtues to the planets. They believed that "the star above us governs our condition," and obviously gave us the science of Astrology.
ZODIAC & SOLAR SYSTEM
Hindu Astrology is sidereal. Zodiac is a diagram used by astrologers to represent the circular movement of the planets & stars and their positions in space at particular times. It is the belt of the heavens limited by lines about 80from the ecliptic on each side, including all apparent positions of the Sun, Moon and planets as known to the ancient. It is divided into twelve equal sections or signs (e.g., Aries, Taurus, Gemini, Cancer, Leo, Virgo, Libra, Scorpio, Sagittarius, Capricorn, Aquarius & Pisces). Zodiac is used by astrologers to calculate the influence of the planets on people's lives.
INFORMATION ABOUT THE RAAASHIS OF THE ZODIAC AND THEIR NAMES
The ancient Hindus and Egyptians divided the year into spring, summer, autumn and winter and assigned to each season three constellations through which the sun passed. They gave amusing but apt names to the various signs of the Zodiac.
RAASHI
NAME
DATE ON WHICH SUN ENTERS THE CONSTELLATION
REASON FOR ASSIGNING THE NAME
AriesTaurus

Gemini

Cancer

RamBull

Twins

Crab

March 21-April 20April 21-May 20

May 22-June 21

June 22-July 22

At this time the sheep produce their youngAgriculture depended on the bull as it tilled the land.Domestic goats usually produce two young ones during this month.

Sun turns back towards equator i.e., the crab crawls backwards.
LeoVirgo

Libra

Scorpio

Sagittarius

Capricorn

Aquarius

Pisces

LionVirgin

Scales

Scorpion

Archer

Crocodile

Or goat

Water

Carries

Fish

July 23-august 23Aug 24-sept 23

Sept 24-oct 23

Oct 24-Nov 22

Nov 23-Dec 22

Dec 23-Jan 20

Jan 21-Feb 19

Feb 20-March 20

Sun is at its zenith and powerful like a lion.In the harvest season girl gleans the ears of corn.

Day and night of equal strength i.e., like the two scales having equal weight.

It is the hunting time.

Sun retreats and gives rise to diseases; hence poisonous.

Rainy season; hence pitcher full of water

Time for fishing as the fish enjoy gliding downwards.
HINDI EQUIVALENTS OF PLANETS
ENGLISH NAME OF PLANETS
EQUIVALENT IN HINDI
EQUIVALENTIN URDU
COLOUR
JUPITERSUNMOONVENUS

MARS(BENEFICIAL)

MARS(MALEFIC)

MERCURY

SATURN

RAHU(NODE)

DRAGON'S HEAD

KETU(NODE)

DRAGON'S TAIL

GURU, BRIHSPATIRAVICHANDERSHUKRA,BHRIGU

MANGAL,BHAUN

MANGAL,BHAUN

BUDH

SHANI

RAHU

KETU

MUSHTRISHAMSHQAMERZOHRA

MARIAKH

MARIAKH

ATTAROO

ZUHAL

RAAS

ZUNAB

YELLOWCOPPER REDWHITE(MILK)WHITE(CURD)

RED BLOOD

RED BLOOD

GREEN

BLACK

BLUE

BLACK & WHITE
HINDI EQUIVALENTS OF Rashis
Heavenly sphere being of 3600, each of the above signs (Raashis) covers 300 of the Zodiac, e.g., Aries (first 300), Taurus (300-600), Gemini (600-900), Caner (900-1200) – so on and so forth.
In some of the ancient texts the author has done away with the Raashis (signs) Nakshatra (Asterisms) etc. and the Houses are the most important. It may however, be noted that Planets are exalted or debilitating according to their signs and placement in the houses. This is based on my personal experience and research.
Raashis (Signs) are equally important and their significance cannot be under-esti-mated. Exaltation & debilitation of a planet depends entirely upon its sign e.g., Jupiter in the 4th house is exalted provided it is in Cancer sign or its own Rashi or in a friend's Rashi. If it is in Capricorn (10th sign) or in enemy's Rashi, even in the 4th house it is debilitating. Similarly Saturn is in the 7th house is exalted or benefic only if it is in its own sign or in friend's Rashi, but if it is in Aries or in enemy's Rashi, it is debilitating and malefic. Sign means the foundation of the house and the planet indicates the house built on it, e.g., Saturn is the Lord of Aquarius (11th sign), but Jupiter is the Lord of 11th house. It means that the foundation of the house is controlled by Saturn & Jupiter is the tenant dwelling in that house.
EXAMPLE: According to Astrology the following horoscope has been prepared: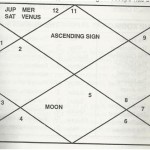 horoscopechartexample1
We have changed the above horoscope as under, taking the Ascendant or lagana as the first house:
For general predictions see 2,3,7,9 &11th houses, but Raashi results should also be taken into account, while making predictions. Similarly, annual predictions should be made according to the Annual Charts.