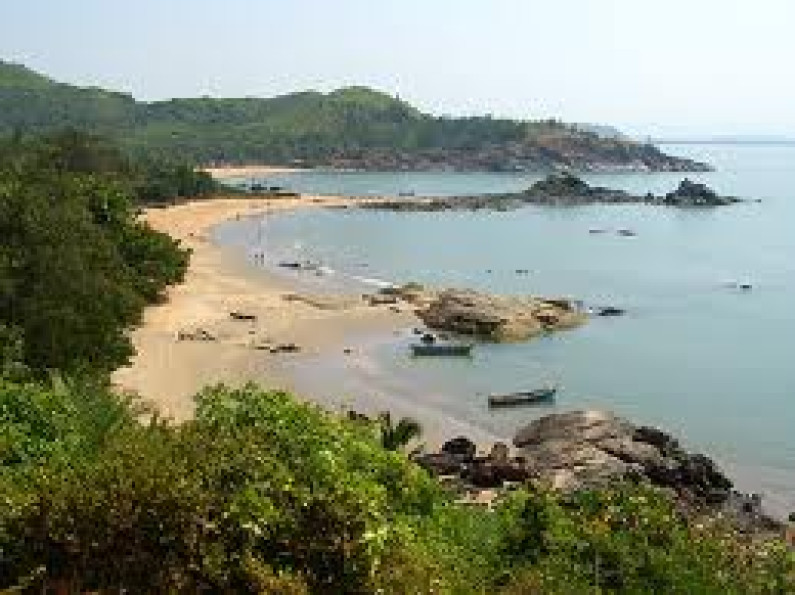 The spiritual travel in India will lead you to many places. Some of them are very popular and as a result you can get information about them easily. There are few that are not so popular. One of them in Gokarna that is located in the state of Karnataka. It definitely has a defined spiritual history that we are going to discuss in this article on a spiritual travel in India. The city is located in the beaches of Arabian Sea. It is a small temple town. The population of this town is not over twenty five thousand.
The Story of Gokarna
A lot of people visit this town every year from all over India and abroad. The town has both religious significance and natural beauty. Gokarna means the ear of a cow. The town has an interesting story behind it. It is said that Ravan was the king of Sri Lanka at that time. He was a huge devotee of Lord Shiva. He went to Kailash and prayed to Lord Shiva. When Shiva was pleased with Ravana he asked him for a wish. Ravana said that he wanted Shiva to come with him and stay in Sri Lanka. Shiva said he cannot do that but he could give him a Shivling that he should place in Lanka.
This is as good as Lord Shiva himself staying in Lanka. Ravana was very pleased he knew now that no one could defeat Lanka and kill him as he was blessed by Lord Shiva. However, Shiva told him clearly that if he placed this Shivling anywhere on earth other than Lanka it will get fixed to the ground and no force will be able to remove it. Ravan agreed and started his journey back to Lanka. The gods got very scared as Ravana became all powerful they wondered what will happen now if no one can defeat Ravana. They went to Lord Ganesh and requested him to do something.
Lord Ganesh gave it a deep thought and then using his sharp mind he found a way out. He disguised himself as a shepherd boy and he went to Ravana. It was almost time for sunset. Ganesh told Ravan that he should do his evening prayers otherwise lord Shiva will be angry. Ravan would pray to lord Shiva every evening so he thought he must listen to the shepherd boy. This is exactly why he gave the shivling to the shepherd and told him not to keep it down while he does the evening prayer.
As soon a Ravana got busy with the puja Lord Ganesha kept the shivling on the ground. As lord Shiva had said the shivling automatically got stuck to the ground. When Ravana came back he was very upset to see this. He used all his strength to remove the shivling. He could not and so he left it there and went. Later a temple was made on this shivling and this later became a place of great religious significance. This shivling is still present in Gokarna. This is one of the prime spots of religious significance among the Hindus.  Some also belive that this is the point on earth where Lord Shiva came into existence.
He had come out of a cow's ear and this is the spot where it happened. This is exactly why this town is called Gokarna. Lord Shiva is a very prominent lord in Hindu mythology. It is belived that he has immense powers and he can even destroy the whole earth if he wants to. This is why people from all over the country come to this town every year to pray to lord Shiva.
Apart from the temple mentioned above there are many more temples. Some significant ones are Maha Ganpati temple, Uma maheshwara temple, Bhadrakali temple, Tamra gauri temple, Venkatramana temple, etc. You must ensure that you visit these temples. There are not very long queues so you can finish them quite fast. Men going to these temples must wear a dhoti and go. Mahashivratri is a big festival here so if you go that time you might see a lot of crowd. The temple is an old one made of rock. You can offer puja here. All the things that you need to do shiv puja are available here. You can collect the prasad. The temple is open during the day and till nine in the evening. You can visit any time. There is an aarti in the morning and in the evening. If you visit the temple during the aarti you will get a very satisfying feeling. Photography is not allowed inside the temple at all. Even phones must be switched off.
The people of Gokarna are simple. Safety is not a concern at all. The local language is Kanada but they do understand English and Hindi.  There are very few good options to stay in this area. In case you are planning a travel do book the hotels in advance. The accommodations are basic and very reasonable. The city of Gokarna is quite well connected for the tourists to reach there. You can take trains that are very comfortable and will take you directly to the city of Gokarna. It is about five hundred kilometres from Bangalore. You can take a bus or a car from Bangalore to reach this town. There are trains too from Bangalore and Mumbai. The station is called Gokarna road. This is about six kilometres from the Gokarna town. You can get down at the station and ask for an auto or taxi. If you want to fly down then the best option would be Goa airport.
The best time to visit Gokarna would be from October to February as it gets very hot in the summers. The town is far away from pollution and the beaches are beautiful. Every year many travellers go here to visit the beaches. The sea here is very rough until you are a very experienced swimmer you should not get into the waters. Many people in the past have lost their lives here. There are life guards around the coasts. During the season a lot of water sports happen here that you can enjoy. It is a hot spot among college kids. This is so as the town is very close to many popular colleges.
I hope we have covered more or less all the information that you might need in case you are planning a spiritual trip to Gokarna. It is a must see not only for it religious significance but also for the beauty of its untouched beaches.