In this post we will take a look at the planet classification in the solar system and how the different planets are classified as per the following
BLIND PLANETS
If the House No. 10 is being debilitated by two inimical planets or by malefic planet, such a horoscope is called blind Horoscope and even exalted Saturn cannot redeem it.
HALF BLIND PLANETS
Sun in the 4th House and Saturn in the 7th mean Half Blind Horoscope.
PIOUS PLANETS
Rahu and Ketu in the 4th house or with Moon in any house and Saturn in 11th or with Jupiter in any house make the subject Pious and noble.
ENEMIES BECOME FRIENDS
For example if Sun whose permanent house is 5th and Saturn whose permanent house is 10th exchange place they become friends. It is a marriage of convenience. It is called Sambandh yoga.
EXALTED AND PERFECT PLANETS
A planet which occupies its own house and is in its own Raashi (Sign) and is not aspected by enemies is called a perfect and exalted planet.
PLANET'S OWN HOUSE
A planet which occupies its own Raashi (Sign) is called planet in its own house e.g. Mercury in 3rd and 6th Raashi.
ENEMIES
Planets in debilitating form and is placed in enemy's house is really bad and spells doom and disaster.
WICKED PLANETS
Rahu, ketu Saturn are sinful and wicked.
EXALTED AND DEBILITATING PLANETS
When a planets is a Raashi (Sign) which is set apart as exalted or debilitating, it is called exalted/debilitating planet.
PLANETS OF EQUAL POWERS
Please refer to the list below.
MASCULINE PLANETS
Jupiter (effect on Soul and Mind)
Sun (effect on body)
Mars (effect on Blood)
Saturn (effect on minerals and machines etc.)
FEMININE PLANETS
Moon (Mother)
Venus (Wife)
EUNUCHS
Mercury (effect on earth, vegetation etc)
Rahu and Ketu are nodes and not planets. They affect the head and the feet.
FRIENDSHIP AND ENMITY OF PLANETS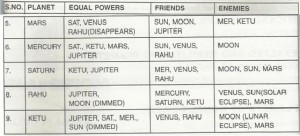 Moon & Venus are of equal strength but Moon opposes Venus.
Jupiter & Venus are of equal strength but Venus opposes Jupiter
Mars & Saturn are of equal strength but Mars opposes Saturn.
Moon & Mercury are friends but Moon opposes Mercury.
When Rahu and Jupiter are together Jupiter may remain meek but will not disappear.
In the 2nd house, if Rahu & Jupiter are together, Jupiter dominates Rahu.
Although Mercury is Jupiter enemy and moon is Mercury's enemy, yet in 2nd & 4th houses, Mercury and Moon will shed their enmity and will monetarily help the enemies.
SACRIFICIAL LAMES (PLANETS)
Saturn:Saturn employs Rahu and Ketu as his agents to ward off enemy's attack. Wherever there is a clash between Sun (Father) and Saturn (Son) – Venus (the woman) is sacrificed. For example if Sun is in 6th house and Saturn in 12th house, wife dies.
Mercury: It sacrifices Venus whenever in trouble.
Mars: Mars malefic (Bother) make Ketu (Son) a scapegoat; for example if Sun is in 6th house and Mars in 10th house, Son dies.
Venus: Venus (Woman) makes Moon (subject's Mother) the scapegoat. If Venus and Moon is opposite each other, mother become, blind.
 Jupiter: Ketu is sacrificed when Jupiter is in trouble.
Sun: Sacrifices Jupiter, Sun and Mars when in trouble.
Moon: Sacrifices Jupiter, Sun and Mars when in trouble.
EFFECT OF PLANET IN VARIOUS HOUSES
The planet is not affected by any other planet and is alone for all intents and purposes.
When the planet occupies the house in which it is considered debilitating or is placed in the enemy house and is malefic according to Raashi (sign).
When it occupies its own house or a friendly house and is considered exalted or beneficial according to Raashi (sign)
LUNAR MANSIONS
According to ancient astrological system, the Zodiac is divided into 27 lunar mansions each extending to 13 degree and 20 minutes   of arc. They are called Nakshtras or Asterisms or simply stars. The mansions are grouped into triads (group of three) and a planet rules each of them: Every planet show its result during the 1/4th or half of its span.