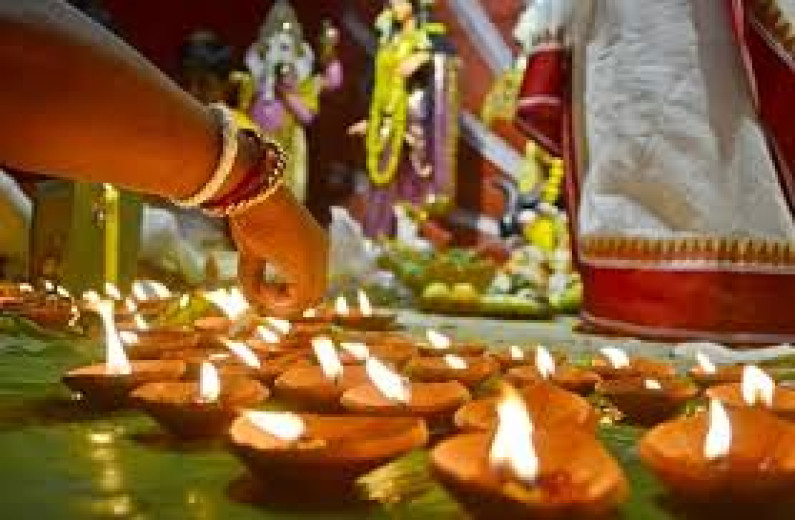 In this article we will explain the significance of sandhi puja that is performed after Ashtami ends and Navami starts. At this juncture for twenty four minutes the sandhi puja is done. This time is also called the sandhikhand. Goddess Durga was sent by the gods to kill the demon Mahisasura. She fought for nine days with the demon and his army finally she successfully killed them all.
Between Ashtami and Navami she killed Chando and Mundo the two most celebrated generals of Mahisasura. When she killed them in a fierce battle she had taken the form of chamunda. This form of goddess Durga is celebrated in the Sandhi puja by the Bengalis during the Durga Puja.
The Story of Sandhi Pooja
The story goes like this goddess Durga was fighting the battle. She was fighting a fierce battle and no one was able to defeat her. She seemed so powerful at this stage. Chando and Mundo decided that they will never be able to defeat her if they attack her from front so they decided to attack her from the back. When they did so goddess Durga got very angry and she took the form of Chamunda.
She appeared like a bright woman with a golden skin. She was wearing a yellow saree. Her hair was tied in a bun. There was a crescent moon on top of her head. There was a tilak on her forehead. A garland could be seen around her neck. He was wearing some gold jewellery that was also shining bright.
When Chando and Mundo attached her from the back she became blue with anger and her tongue became bloody red. Her eyes were red with anger. She looked so fierce that Chando and Mundo got scared and regretted what they had done. She took out her weapons and leapt at Chando and Mundo killing them both. This happened in the first 24 minutes of Navami and it has been ever since celebrated as Sandhi puja.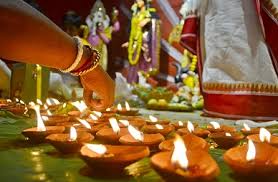 Part of Durga Puja
The Sandhi puja has always been an integral part of Durga puja. All Bengalis celebrate this puja with great devotion. In the olden days the Durga puja was performed in the houses of the zamindars and the kings. Durga Puja needs a lot of preparation and as a result it cannot be performed on a small scale. Most of the places people contribute and the puja is performed by a number of people. It is not something that can be done in every household like Ganesh puja or Lakshmi puja is done.
The puja also goes on for about five days on a very grand scale. The zamindars and kings would fire cannon balls to indicate that the Sandhikhand has started and people must gather for the sandhi puja.  Firing cannon balls was a common practice for many years. After independence also it was continued for some time. However, this practice cannot be seen anymore nowadays. The Sandhi puja happens mostly at midnight or late in the night.
The Bengalis ensure that they attend this puja no matter how late it gets and they seek the blessing of goddess Durga asking her to bless them with power and ability to fight the evil. Some people also fast the whole day so that they can participate in the sandhi puja. It is one of the most significant and important aspects of the Bengali Durga puja.
108 Oil Lamps
The sandhi puja looks very beautiful as 108 oil lamps are lit around the goddess during the puja. Along with the 108 lamps are placed 108 lotus flowers. This makes the scene even more divine and auspicious. Apart from that fruits are offered to the goddess. Dry rice is offered and is later used to make Prasad for the devotees. The goddess is made to wear garlands. People offer sarees and even jewellery to the goddess. Wood apple leaves are an integral part of any puja performed by the Bengalis it is called the Bel pata by the Bengalis.
Aarti of goddess Durga is done during this puja and it is a beauty to watch this puja being performed. The puja has been performed more or less in the same manner for more than 200 years now. We hope that even in future it will be performed in the similar manner.
If you have a Bengali Durga puja happening anywhere close to your house then do make it a point that you visit the puja during the Sandhi puja and witness the divine environment for yourself. We hope that this article will increase your knowledge about the Durga Puja. We will keep writing about some more interesting aspects of Durga puja in our next few articles.